Morpho butterfly in Costa Rica
This beautiful blue butterfly, measuring up to 15-20 cm, seems to appear and disappear with every flick of its wings. In fact, its underside is a clever trick of Mother Nature. On the underside, it is inconspicuous reddish-brown, with eyes to deter attackers. The bright iridescent blue, in turn, is to deter competition and attract females.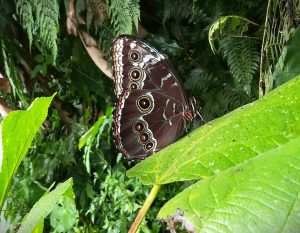 Because you guessed it, only the male is so brightly colored. The females' wings are brown, yellow and black. Sometimes there are even specimens with sexual dimorphism. Because they have characteristics of both females and males, they can have 1 brightly colored and 1 less conspicuous wing.
Science is fascinated by its ability to reflect light. By studying the butterfly, the company NanoTech Security invented iridescent strips that make it much harder to fake money. They make a series of tiny holes in those bills that reflect light in a certain way,. which is very difficult to fake
Fun facts about the blue morpho:
It is thought that the name "morpho" comes from the metamorphosis that the butterfly does while flying: blue like the sky, brown like a leaf, blue, brown,….
Pilots flying over the Amazon jungle can see the striking butterfly from the air.
The skunk has nothing on the blue morpho! When these butterflies feel threatened, they can release a smelly odor from a gland on their front legs.
The morpho isn't even technically blue. The color is the result of how light reflects off the scales of its wings.
The morpho got stuck in the smoothie hype. After all, he can't chew. So he drinks from rotting fruit, tree sap, mushrooms, wet mud and even decomposing animals. Still, give me a berry smoothie!
These butterflies can smell with their antennae, but taste with their feet. Then imagine stepping in a pile of poop!
They themselves are not easily eaten, as they are poisonous to many species. However, the startup company Cypris Materials mimics their light-reflecting properties to make a line of less toxic paint. Less cancer, more studies, yes please!
Native tribes each have their own stories about the butterfly. In some tribes the morphos are spiritual guides, or can grant wishes. The tribes that use the butterflies as poison see them as evil, murderous spirits.
More facts about the rainforest? Or news from Costa Rica? Click here